Share:

The price of natural gas recovers after the release of lower-than-expected US inflation data, weighing on the US dollar.
Natural gas traded flat ahead of Friday's data on higher-than-expected inventories in Europe.
That largely overshadowed Thursday's U.S. data, which showed inventories fell last week.
The price of natural gas recovered on Friday after the release of US inflation data shows an unexpected drop in prices weighing on the US dollar. Lower inflation data reduces the chances that the Federal Reserve (Fed) will raise interest rates at its next meeting, which is negative for the USD. Natural gas, which is priced and traded mainly in US dollars, rose on the news.
The commodity traded slightly lower ahead of the release amid easing supply concerns after data from S&P Global showed European inventories at 77% of capacity, reassuring traders that storage tanks will be full in time due to a winter glut of demand. That reversed Thursday's gains after U.S. data showed a surprise drop in inventories last week.
XNG/USD is trading at 2,700 s/MMBtu during the US session.
Natural Gas News and Market Drivers
The Fed's preferred measure of inflation, the Core Personal Consumption Price Index, undershot expectations in May, coming in at 0.3% month-on-month instead of the 0.4% forecast. Year-on-year, the result is 4.6%, compared to the expected 4.7%, according to data from the Bureau of Economic Analysis.

The result makes it less likely that the Fed will raise interest rates at its next meeting in July. This weakens the US dollar as higher interest rates tend to attract greater inflows of foreign capital. A weaker USD has the effect of increasing natural gas prices, which are valued in USD.

Natural gas inventories in Europe – built up in preparation for winter – are substantially higher than in previous years, easing supply concerns and lowering prices.

Natural gas storage capacity in Europe reached 77% according to the latest data. data from S&P Global, which compares to 58% in 2022 at the same time of year and 48% in 2021.

The S&P Global article suggests that demand may still grow in Q3 (2023) due to low prices.

Its third-quarter infographic (see below) forecasts a 2.4% increase in natural gas demand in the quarter to 680 million cubic meters of gas per day (mcm/d).

S&P Global says higher natural gas supplies and a boom in solar energy will "ease supply pressure."

The current relatively low natural gas prices are themselves the result of an overall lower level of demand so far in 2023, according to Irina Slav, a reporter for Oilprice.com.

Reduced consumption has become the norm in Europe after energy bills skyrocketed in 2022 and pressure from some governments to lower consumption combined to make consumers more cautious, Slav says.

The 2022-2023 winter was also relatively mild in both the US and Europe, reducing demand for natural gas and keeping inventories high from last year. This means that less is needed to replenish them in 2023, writes Slav.

"The reason for lower prices is, as expected, lower demand. It is true that Europe is buying liquefied natural gas. But he buys much less than last year: because his storage caves are not endless and there is still enough gas left in them from last year," reports Slav on Friday.

Natural gas also fell after geopolitical stability returned to Russia, which is still a major producer. When the Wagner Rebellion began, prices rose due to fears that supplies would be disrupted by civil war. However, now that the rebellion is over, they have retreated.

Norwegian supply concerns following outages at the Hammerfest LNG export terminal and processing plants in Nyhamn and Kollsnes continue to support prices. However, the high storage levels seen in Europe mean that outages in Norway are now less of a concern.

According to Natural Gas Intelligence (NGI), volatility from traders shuffling positions ahead of futures and options expiration dates could affect prices as we approach the end of June.

Moving to the U.S., natural gas prices edged higher on Thursday after EIA data showed in the week ending May 23.

The sudden recovery came after a nearly 10% drop in price from June highs.

Demand for natural gas to power air conditioners may moderate after reports that US temperatures will return to averages for the time of year next week.
Natural Gas: S&P Global Infographic
Natural Gas Technical Analysis: Yield has stalled near a significant trend-setting level
The price of natural gas is trading just below a key trend-setting level on longer-term charts. While the commodity remains in a long-term downtrend since hitting its August 2022 peak, the bearish momentum has diminished considerably.
The Relative Strength Index (RSI) momentum indicator is converging sharply with price on the weekly chart, which occurs when price makes new lows, but the RSI does not.
A break above the recent lower high of the long-term downtrend at 3.079 MMBtu would mark a reversal in the broader downtrend.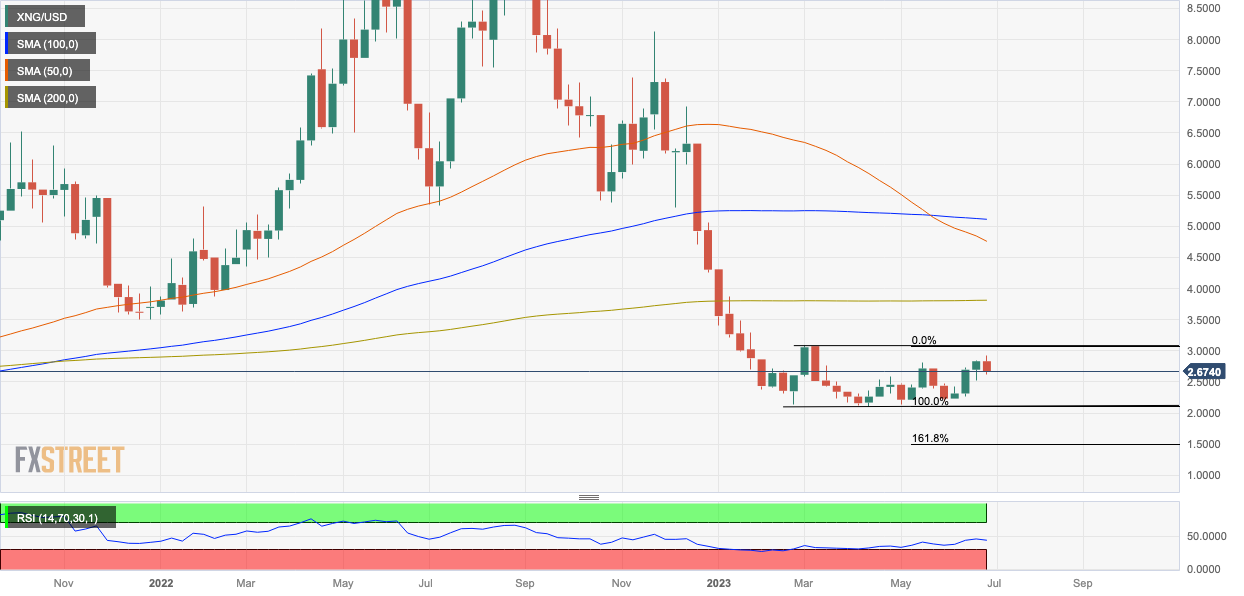 Natural gas: weekly chart
As this level has not yet been broken, the downtrend remains intact and a break below the yearly lows of $2.110 would provide confirmation of a continuation down to the $1.546 target. This target is 61.8% Fibonacci widening of the height of the roughly sideways consolidation range that developed during 2023 (marked 161.8% in the charts).
On the daily chart, the price is rising within a roughly sideways market, although it has broken above both the 50 and 100-day simple moving averages (SMA).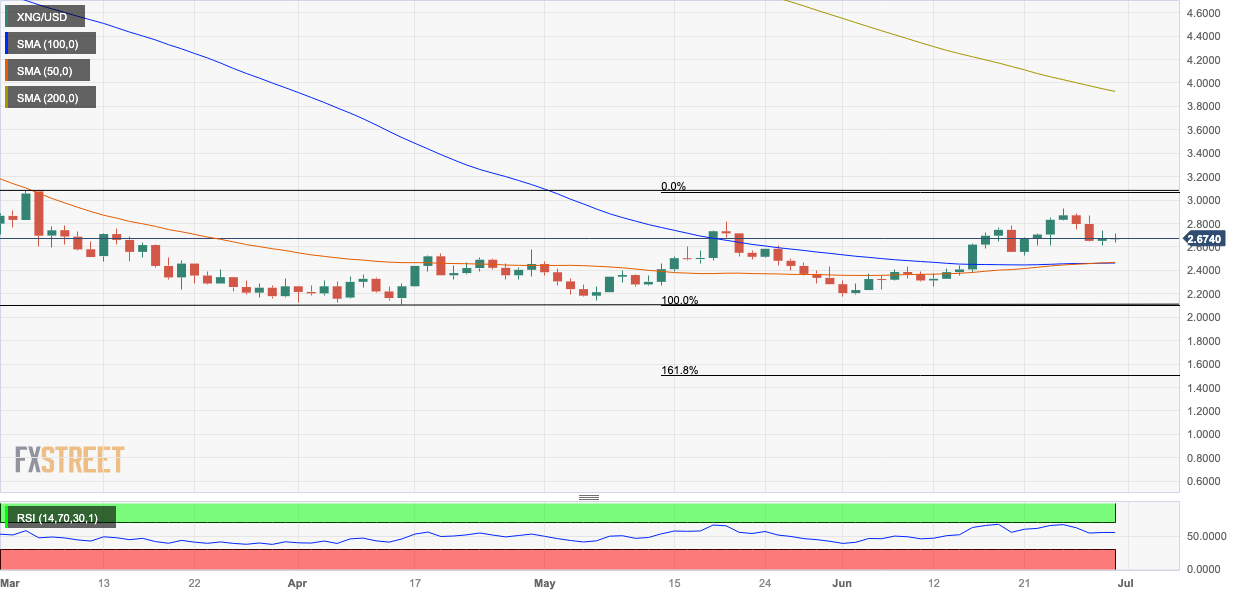 Natural Gas: Daily Chart
However, a break above the recent lower high of the long-term downtrend at $3.079 MMBtu would be required to signal a reversal in the broader trend.
Such a move could then cause prices to rise to another key resistance level at the 200-week SMA, which is located at $3.813.
Until that happens, however, the price will likely continue to consolidate within its range.
Frequently asked questions about natural gas
Supply and demand dynamics are a key factor influencing natural gas prices and are themselves influenced by global economic growth, industrial activity, population growth, production levels and inventories. Weather affects natural gas prices because more gas is used for heating and cooling during cold winters and hot summers. Competition from other energy sources affects prices as consumers may switch to cheaper sources. Geopolitical events are factors, an example of which is the war in Ukraine. Government policies on mining, transportation and environmental issues also affect prices.
The main economic report affecting natural gas prices is the weekly inventory bulletin from the Energy Information Administration (EIA), the US government agency that produces data on the US gas market. The EIA Gas bulletin is usually released at 14:30 GMT on Thursday, the day after the EIA publishes its weekly Oil bulletin. Economic data from major natural gas consumers can affect supply and demand, with China, Germany and Japan among the largest. Natural gas is primarily priced and traded in US dollars, so economic news affecting the US dollar is also a factor.
The US dollar is the world's reserve currency and most commodities, including natural gas, are priced and traded on international markets in US dollars. As such, the value of the US dollar is a factor in the price of natural gas, because if the dollar strengthens, it means that fewer dollars are needed to buy the same volume of gas (the price goes down), and vice versa if the dollar strengthens.